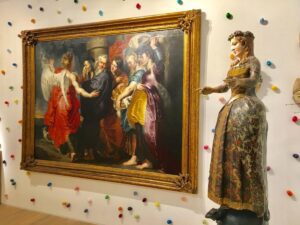 By George Lindemann
https://www.wvgazettemail.com/life/travel/wv-travel-team-miami-embraces-its-exploding-art-scene-which/article_5ec6160c-290a-52c7-b520-14986ec82204.html
Excellence is not easily quantifiable. Dictionary.com (one of my favorite iPhone apps) defines it using superlatives such as superior, remarkable, and outstanding. Many critics and art fans use "excellence" or "excellent" when describing museums, art shows, and artists. "The best" is used a lot too.
Several years ago, The Bass was revising its mission statement. We benchmarked several other museum mission statements and were surprised at how many times "the best" was used  in mission/vision land. We decided that "the best" was setting ourselves up for failure and opted for the lesser "excellent" designation. We would strive to offer "excellent" programming. While the "best" is virtually impossible, excellence is not that easy either.
I was thinking about "excellence" in programming while reading the Charleston Gazette Mail's recent Miami art scene review. I paused and read the piece a second time. I had "excellence" on my mind… The Charleston newspaper certainly offers some excellent reporting. It is a Pulitzer Prize winning paper. But there were one or two sentences in the story which really caught my attention.
When a museum viewer said, "I'm an artist… I don't like art galleries that tell me I'm stupid because I don't get the joke," here's what the Charleston reporter wrote:
"Well," the guard answered, after listening to her patiently, "Isn't art what you make of it?" Gallery guides enhance the way visitors take in the art. They sometimes create dialogues with visitors. The Bass is moving away from the traditional gallery guard model and moving towards a mix of guards AND gallery guides. WOW. That really is excellent.
Part of the mission of a museum is to display, curate, and educate. The answer that the guard provided to the visitor was truly excellent. The amount of training, discipline, and care displayed by this guard is a testament to all art institutions. The Bass is proud of our staff, but "excellent" guards and docents are not unique to our institution. Docents and guards around the country are a huge part of what makes an institution excellent. In the case of the Charleston reporter, he witnessed and was observant enough to point out a small piece of what made his visit "excellent." But wait. That's not it…
The Charleston reporter then calls out by name various members of the museum front desk staff. Gabrielle Peters (aka Gabi) "smiled, when she answered a question…" and continued to laugh with the reporter. Gabi Peters has been at The Bass for twenty years. She regularly meets with the communications and operations department and offers feedback on the visitor experience. In the case of the Gazette reporter, Gabi made him smile before he even walked into the exhibit.
Now that is truly excellent! It might even be "the best."
While I am pointing out "excellence," kudos to Charleston newspaper Martin King for the shout-outs to The Bass front door and guard staff. Rarely do  journalists report on these subtle experiences.
Excellence does indeed start at the front desk. Customer service is key to the experience as a museum is less of a passive observer and more of an active participant.
Institutional excellence is a long process and takes generations. Thank you, Charleston Gazette, for reporting on the subtleties of your Bass experience. Oh, and thanks for coming back a second time to visit Miami Mountain.
George Lindemann is the General Manager of BC Property, a Partner in the Lake Point Restoration Project, and President of The Bass Board of Directors. He writes frequently about issues related to the environment, culture, and community enrichment. To follow his blog click here.